/
/
/
TV Alert: SXU's Prof. Robert Shapiro interviewed with Paul Lisnek of CLTV's Politics Tonight
TV Alert: SXU's Prof. Robert Shapiro interviewed with Paul Lisnek of CLTV's Politics Tonight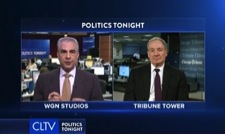 Saint Xavier University (SXU) Political Philosophy Professor Robert Shapiro served as an expert source during an interview on Thursday, Janaury 7 at 5:30 p.m. with host Paul Lisnek of CLTV's Politics Tonight. During the interview, Prof. Shapiro discussed three major current event topics – South Korea's hydrogen bomb testing, foreign relations between Saudi Arabia and Iran, and gun control.
He addressed the possible implications of South Korea conducting hydrogen bomb testing and how it may impact fellow nations. In the discussion over the foreign relations between Saudi Arabia and Iran, Prof. Shapiro talked about Saudi Arabia's recent change in leadership and how this change is affecting its relationship with Iran. The interview concluded with a conversation on gun control and when the nation would see President Obama's newly appointed laws to be implemented throughout the country.
Prof. Shapiro has 34 years of experience as a litigator and trial lawyer for Barack Ferrazzano Kirschbaum & Nagelberg LLP.
---