/
/
/
TV Alert: SXU's Robert Shapiro interviewed on Election Day outcome on FOX32 Chicago
TV Alert: SXU's Robert Shapiro interviewed on Election Day outcome on FOX32 Chicago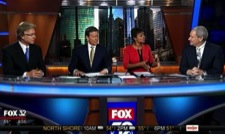 Saint Xavier University's (SXU) Political Philosophy Professor Robert Shapiro served as an expert source during the LIVE FOX32 Chicago broadcast today, Tuesday, Nov. 8 at 8:30 a.m. During the interview, he addressed the entirety of the election campaign for both Hillary Clinton and Donald Trump. Specifically, he discussed the candidates last-minute efforts for swing state votes and the impact on the polls today. Prof. Shapiro also briefly addressed past political campaigns and how the 2016 Election is serving as one of the most contentious races in history. The interview concluded with the discussion of how important early voting has been and for the first time in presidential election history it could make or break the end result of the election.
Additionally, Prof. Shapiro was also interviewed during the LIVE FOX32 Chicago broadcast at 9:30 a.m., where he talked about both the senate and comptroller races in Illinois and the projected winners of each race. He also discussed what happens after the polls close and the impact of the battleground states, as well as the length of the United States' election process and the affects it has on the American people.
Prof. Shapiro has 34 years of experience as a litigator and trial lawyer for Barack Ferrazzano Kirschbaum & Nagelberg LLP.
---