TV Alert: SXU's Robert Shapiro interviewed on Politics Tonight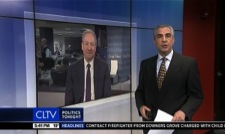 Saint Xavier University (SXU) Political Philosophy Professor Robert Shapiro served as an expert source during an interview on Friday, February 12 at 5:30 p.m. with host Paul Lisnek of CLTV's Politics Tonight. The interview focused on the civil war in Syria, which has triggered the worst refugee crisis since World War II. Last week, U.S. Secretary of State John Kerry and Russia's Foreign Minister Sergey Lavrov announced a temporary cease fire, which would bring humanitarian aid to the victims. Prof. Shapiro discussed what skeptics are saying about last week's announcement and whether or not there are any potential implications diplomats will have to address at a later date.
Prof. Shapiro's interview re-aired during the 10 p.m. broadcast. He has 34 years of experience as a litigator and trial lawyer for Barack Ferrazzano Kirschbaum & Nagelberg LLP.
---