TV Alert: SXU's Robert Shapiro interviewed on Politics Tonight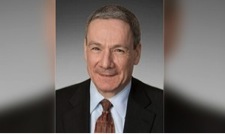 Saint Xavier University (SXU) Political Philosophy Professor Robert Shapiro served as an expert source during an interview on Tuesday, January 19 at 5:30 p.m. with host Paul Lisnek of CLTV's Politics Tonight. During the interview, he discussed the issues surrounding the Supreme Court upholding the executive order on immigration from the Obama administration and what this means moving forward into an election year.
Additionally, Prof. Shapiro discussed the recent release of American sailors from Iran and an update on the Iran deal. Specifically, he spoke of what prospects U.S. citizens can gather in respect to foreign policy with Iranians.
Prof. Shapiro's interview re-aired during the 10 p.m. broadcast. He has 34 years of experience as a litigator and trial lawyer for Barack Ferrazzano Kirschbaum & Nagelberg LLP.
---