Saint Xavier University's S-Wing renovations underway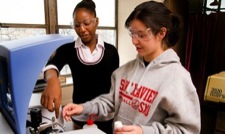 Those who work near or in the S-Wing may have noticed that changes are afoot. Students returning this fall will notice some improvements in their science labs and classes.
The third disbursement of Saint Xavier University's (SXU) award from the Illinois Board of Higher Education Independent Colleges Capital Program (ICCAP) has been earmarked for much-needed improvements to our science facilities, and much of this work will take place over the summer. Pete Skach, director of Facilities Services, anticipates an August 12 date for major completion. In addition to various lighting, power, flooring, water supply and ventilation upgrades, faculty and students can look forward to:
New eye–wash stations throughout the science labs;
An upgraded safety shower plus the addition of one new safety shower;
New chemical storage racks and shelving;
An emergency generator to serve lab equipment;
Refurbished laboratory plumbing equipment and natural gas feeds and valves ;
Six new ventilation hoods in the laboratories and new laboratory vacuum systems for each of the new ventilation hoods.
Although renovations can be inconvenient, especially for those students and faculty who have research in progress, the faculty overwhelmingly agree that the work is long overdue. "It is a much-needed renovation to bring our labs into the 21st century," Debbie Mulhearn, assistant professorial lecturer in Chemistry, says. Assistant Professor of Chemistry Julia Wiester agrees: "The addition of new lab hoods is a necessary improvement for our growing number of science majors."
No university or tuition funds are being used for this renovation; all work will be completed with ICCAP funding. The first release of ICCAP funds financed the renovation of the library's main level in the summer of 2011. With the second disbursement of funds, SXU renovated the L-Wing's lower level, which included the art gallery, CIDAT and Media Services spaces, Coffee Cats, library quiet study rooms, editing rooms, recording studio, instructional design center, L127, and the student media center. These renovations were completed in 2013.
---