SXU's Schmitt Scholars welcome Keith Knight on March 17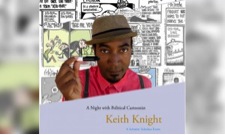 Saint Xavier University (SXU) welcomes Keith Knight, political cartoonist, to campus on Thursday, March 17 at 7 p.m. in McGuire Hall located on SXU's Chicago campus, 3700 West 103rd Street. Knight's presentation will incorporate his most important cartoons that question the status quo, police brutality and race relations. Following the presentation, there will be a Q&A, as well as a book signing. This event is funded by the Schmitt Foundation and is free and open to the public.
Ten SXU students have worked together to coordinate this event as part of their participation in the Schmitt Scholars Program. Due to the amount of stories in the media surrounding political and racial issues, the students chose to invite a speaker that was knowledgeable in social justice, especially in light of the Black Lives Matter movement and anti-Muslim sentiment.
Knight is the author of three comic strips: the Knight Life, (th)ink, and The K Chronicles, the last of which is a three-time winner of the Glyph Award for Best Comic Strip and the 2007 winner of the prestigious Harvey Award for Best Syndicated Strip or Panel. Knight's presentation showcases some of his darkest, funniest and most moving cartoons. His work is designed to provoke constructive, civil dialogue amongst all people, young and old, left and right, and of all colors and orientations. His presentations receive rave reviews; he's even received positive feedback from police officers, and is in talks with his hometown police department to work together on a project regarding the police and community relations.
The Schmitt Scholars Program promotes the development of SXU leaders helping participants advance their leadership efforts at the University and preparing them to make a broader impact on the world after graduation. Schmitt Scholars receive a merit-based scholarship and participate in a program of activities that promote them with opportunities to reflect on and develop their leadership potential.
The Program is supported by the Arthur J. Schmitt Foundation, which dedicates its resources to building a better and more humane world. Schmitt was a successful entrepreneur, engineer and inventor who was committed to the education of educated, ethical and spiritually reflective leaders. His legacy has supported generations of Schmitt Scholars at selected colleges and universities throughout the Midwest.
To preview some of Knight's work, please visit his website. For additional information on the Schmitt Scholars Program, please contact Denise DuVernay, assistant director of Corporate, Government and Foundation Relations at duvernayFREESXU.
---