/
/
SXU's Communication Sciences and Disorders students win IHSA's 7th Annual College Bowl
SXU's Communication Sciences and Disorders students win IHSA's 7th Annual College Bowl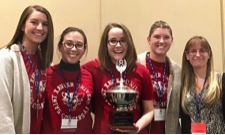 Saint Xavier University's (SXU) Communication Sciences and Disorders students competed and won the seventh annual Illinois Speech-Language-Hearing Association's (ISHA) College Bowl on Friday, February 12. This is the second year SXU has won this competition!
"It was great to bring the trophy back to SXU again this year," said Carol Szymanski, associate professor of communication sciences and disorders.
The SXU team consisted of second year graduate students in the Master of Science Speech-Language Pathology program. Students Elyse Gnika, Kelsey Kaelin, Kaila Koch and Amanda Wilbur demonstrated their mastery of language and language disorders, neurological disorders, fluency disorders, genetic syndromes, hearing, multicultural issue and the sound system.
"We are extremely proud of the students in the Master of Science Speech-Language Pathology program," said Szymanski. "This is a group of intelligent and clinically talented students more than ready to enter the profession of speech-language pathology, who will represent SXU well!"
The ISHA holds its annual convention in February of each year. One day of the conference has a special track for students, where they can participate in activities related to becoming a professional in the fields of speech-language pathology and audiology. The day also offers students information on searching for a job and interviewing, obtaining certification and licensure, contributing to the profession, and numerous content sessions addressing topics in communication disorders, hearing and swallowing. Each program in the state (there are 13 programs; 11 participated) sends a team consisting of four students, who participated in a jeopardy-style quiz game that lasts two hours. Questions are related to development, disorders, assessment and treatment in speech, language, hearing and swallowing.
All members of the team volunteered to represent SXU in the ISHA's College Bowl and are expected to graduate in May of 2016.
---