SXU Senior Art & Design students reveal year-long projects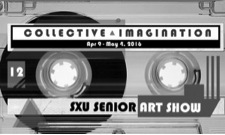 Based on a deadline spanning across the entire year, each senior student from Saint Xavier University's (SXU) Art & Design Department is assigned to prepare and execute a project centered on a theme and in a media of their choice. The SXU Art Gallery will host the "Collective Imagination" located on SXU's Chicago campus, 3700 West 103rd street, which will display the year-long thesis exhibitions work of these students. The first exhibit runs April 9 to 19, with a reception on Saturday, April 9. The second exhibition runs April 23 to May 3, with a reception on Saturday, April 23.
The exhibitions will display the works of each SXU Senior Art & Design student in which each project addresses various topics ranging from humanity's, diversity and commonality, the epidemic of homicides in Chicago, living with Type 1 diabetes, the bonds of sisterhood, the loss of a loved one's parent and the aesthetics of water as seen through the lens of a swimmer. Exhibition planning and installation in the SXU Gallery provides seniors with a true-to-life professional career experience, while culminating their academic Art & Design Studies at SXU.
The following are students' work that will be on display during the first exhibit:
Adewumi Adegoke, Chicago resident, aims to communicate the burning issues of his thoughts and his unspoken words through a video installation entitled, "Homo Sapiens."
Wioleta Takuska, Justine resident, explores the persistent sensation of the presence of another through an 11X17 inch photography entitled, "Through the Wood."
Dominique Joly, Chicago resident, provides her unique blend of 90s pop media that influenced her and her own perspective in her work featuring sculpey, acrylic paint, cardboard, stenciling film and fabric.
Thomas Rohlfs, Orland Hills resident, gives viewers insight on the relationship humans have with various bugs that live in and around their dwelling through a sculpture and video.
Tania Gutierrez, Evergreen Park resident, showcases the streets of Chicago in a photographic installation, each image depicting the location where a homicide has occurred.
Karina Ramirez, Chicago resident, aims to tell her personal struggles as a young Mexican female, born and raised in Chicago and as a consumer of media through a video installation.
The following are students' work that will be on display during the second exhibit:
Lindsey Surin, Orland Park resident, displays the deep and unique bond between herself and her sister through a 22X30 inch graphite pencil drawing entitled, "You and I."
Eleanore Menke, Evergreen Park resident, expresses her grief through a video narrative that invites viewers to consider the impact of her personal loss of a loved one.
Heidi Gregerson, Park Ridge resident, gives viewers a whimsical taste of prosthetics as an art form and not a handicap through her 11X14X2 inches Plexiglas, watercolor and ink collage piece entitled, "Hold Me Closer Tiny Dancer."
Janet Tencza, Chicago resident, aims to display the emotions she has experienced since her son's diagnosis of Type 1 diabetes through her 22.4X14.6 sculpture entitled, "May You Live All the Days of Your Life."
Thomas Schultz, Chicago resident, aims to bring awareness to high blood pressure and its effect on thousands of individuals within the U.S. through his 34X22 illustrations.
Emma Healy, Chicago resident, takes viewers through the magical and mysterious aesthetics of water, capturing water in abstract forms in a 16X22 digital photograph.
---