SXU Senior Cindy Nunag to attend prestigious GIVEN Forum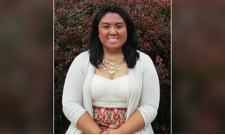 Saint Xavier University's (SXU) Cindy Nunag, senior nursing major, will join a selected group of Catholic women at the National GIVEN Catholic Young Women's Leadership Forum in June 2016. Nunag was selected as one of only 300 individuals from a nationwide applicant pool to attend the Forum, where she will develop leadership skills and meet several women in key positions from various organizations, including a keynote address by Dr. Carolyn Woo, president and CEO of Catholic Relief Services.
Nunag will participate in events and speaker sessions focused on three main themes – receive the gift you are; realize the gifts you have been given; and respond with the gift that only you can give – through the week before bringing the skills she learned home. She hopes to apply these themes to share culturally-influenced religious programming in her home church in honor of her own family's cultural heritage.
SXU's Department of Mission and Ministry recommended Nunag for the GIVEN Forum because of her involvement in the Campus Ministry. She leads a faith sharing group, ministers in various ways during the 8 p.m. Sunday Mass and serves as a resident peer minister for the Quad Halls on campus.
For more information on the GIVEN Forum, please visit their website.
---