Shannon Center Member Spotlight of the Month – April 2016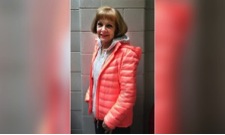 Saint Xavier University's (SXU) Shannon Center has been open to the community for over 16 years! As a way to show appreciation of the community's support, the Shannon Center will highlight one loyal member each month. Members will be chosen by a full-time staff manager or student manager and will be featured on the Shannon Center's website.
The Member Spotlight for the month of April is Diane Ritchie. She has been a member of the Shannon Center for two years and thoroughly enjoys the "community feel" environment. As an avid exercise enthusiast, Ritchie likes the various classes offered, especially the weight class, which she tries to incorporate in all her workouts. A typical workout for her includes using the track, stationary bike and attending a fitness class. Ritchie appreciates the health benefits associated with working out and that's what helps to keep her motivated to return from week to week.
"Since working out, my bone density has improved and stayed the same without the use of medications," said Ritchie. "Knowing that it can lead to osteoporosis keeps me motivated to stay on top of it and make sure my bone density stays within a healthy range. Working out is great for many things, especially your mental and physical health – staying on top of these helps when you are exercising!"
Congratulations, Diane! Check back to see the Shannon Center Member Spotlight for the month of May!
---