Shannon Center Member Spotlight of the Month – July 2016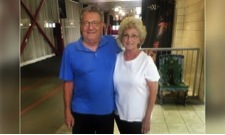 Saint Xavier University's (SXU) Shannon Center has been open to the community for over 17 years! As a way to show appreciation of the community's support, the Shannon Center will highlight one loyal member each month. Members will be chosen by a full-time staff manager or student manager and will be featured on the Shannon Center's website.
The Member Spotlight for the month of July goes to both Bill and Shirley Pawlak. Mount Greenwood residents, the Pawlak's truly enjoy the Shannon Center for its "community feel," where it's not only convenient but a place to interact with the various gym-goers. The couple have lived in the neighborhood for 45 years and have seen both of their sons grow up just blocks away from SXU. The Pawlak's have been Shannon Center members since it opened in 1999 when they decide it was time to get off the couch and get moving.
"Being longtime Shannon Center members, both Bill and I have come to make many friends while meeting our fitness goals," said Shirley. "We always feel better after we work out; as the phrase says, we better move it or lose it!"
This fall, the couple will celebrate their 50th wedding anniversary. Join SXU in congratulating both Bill and Shirley on their milestone and their dedication to living a healthy lifestyle!
Check back to see the Shannon Center Member Spotlight for the month of August!
---