Shannon Center Member Spotlight of the Month – March 2016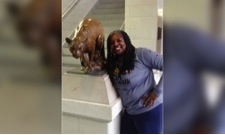 Saint Xavier University's (SXU) Shannon Center has been open to the community for over 16 years! As a way to show appreciation of the community's support, the Shannon Center will highlight one loyal member each month. Members will be chosen by a full-time staff manager or student manager and will be featured on the Shannon Center's website.
The Member Spotlight for the month of March is Phyllis Simpson. A proud alumnus, Simpson graduated from SXU in 2002 and again in 2007, and currently serves as a detective for the Chicago Police Department. She has always enjoyed using the Shannon Center because of the "laid-back atmosphere," where staff and gym-goers are always cordial and positive. As an avid exercise enthusiast, Simpson enjoys working with Jana Terborg, personal trainer at the Shannon Center, because she doesn't allow her to cheat at her workouts and helps keep her accountable! A typical workout for her includes a 15 – 20 minute warm up on either the stationary bike or the treadmill. Then, she'll move onto a combination of cardio, core work, strength training and stretching, depending on how she's feeling that day. Simpson appreciates an active lifestyle, which helps keep her motivated.
"I am personally just not ready to stop moving, going and doing," said Simpson. "Although older, I know that as long as I continue to exercise and live a healthier lifestyle, I trust that I will remain vibrant and have as a great quality of life! Getting started is the difficult part of exercising, particularly if it's been some time since you've participated. Just make sure you put forth the effort and the eventual benefits will be well worth your time."
Congratulations, Phyllis! Check back to see the Shannon Center Member Spotlight for the month of April!
---