Shannon Center Member Spotlight of the Month – May 2016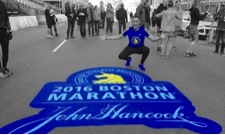 Saint Xavier University's (SXU) Shannon Center has been open to the community for over 16 years! As a way to show appreciation of the community's support, the Shannon Center will highlight one loyal member each month. Members will be chosen by a full-time staff manager or student manager and will be featured on the Shannon Center's website.
The Member Spotlight for the month of May is Robert Perez. As proud alumnus and exercise enthusiast, he has been a member of the Shannon Center for six years. Perez enjoys fitness and marathon running, but also helping others meet their running goals, through serving as a Shannon Center running coach and Chicago Nike + Run Club Pacer. He has completed 12 full marathons, 24 half marathons, one ultra-marathon and numerous short distance races.
"My greatest running achievement was qualifying and running the 2016 Boston Marathon," said Perez. "My goal is to run the six World Marathon Majors, which I'm halfway there! I've run marathons in Chicago, New York, and now Boston. The next marathons I'll be scratching off my list will be Tokyo, Berlin and London."
His typical workouts are cardio focused and usually training for his next race. During marathon training season, Perez ranges anywhere from 40 – 60 miles per week! He will perform dynamic stretches before and after his runs, and incorporate core exercises after each workout. Additionally, Perez will do strength training with weights 2 – 3 times per week.
"The best advice I got from a running coach was to be patient," said Perez. "Work hard and don't cheat yourself – make every workout count and put 100 percent effort into it. Becoming a better athlete requires time and commitment – make time for your workouts, no excuses!"
Congratulations, Robert! Check back to see the Shannon Center Member Spotlight for the month of June!
---