Shannon Center Member Spotlight of the Month – August 2016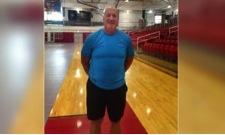 Saint Xavier University's (SXU) Shannon Center has been open to the community for over 17 years! As a way to show appreciation of the community's support, the Shannon Center will highlight one loyal member each month. Members will be chosen by a full-time staff manager or student manager and will be featured on the Shannon Center's website.
The Member Spotlight for the month of August is Chuck Ruzevich. A Mount Greenwood resident, Ruzevich truly enjoys the Shannon Center for its facilities and easy access to fitness success. He is a Chicago police officer who has been devoted to living a healthy lifestyle, as he has been a Shannon Center member for 12 years and counting! Though, his job requires him to stay physically fit, his enthusiasm for continuing his fitness routine has been a hobby since high school. A typical workout for him includes cardio, free weights and the use of the machines five days a week for 60 – 90 minutes per gym session. Doing fitness activities that he enjoys helps keep Ruzevich motivated.
"An important tip would be to set time aside for yourself to do some type of exercise that you enjoy doing – running, walking, swimming, etc.," said Ruzevich. "Your health is important, so do what you can to take care of your body. The Shannon Center is a great place to get your workouts started!"
Congratulations, Chuck! Check back to see the Shannon Center Member Spotlight for the month of September!
---