Shannon Center Member Spotlight of the Month – November 2016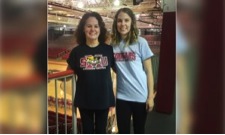 Saint Xavier University's (SXU) Shannon Center has been open to the community for over 17 years! As a way to show appreciation of the community's support, the Shannon Center will highlight one loyal member each month. Members will be chosen by a full-time staff manager or student manager and will be featured on the Shannon Center's website.
The Member Spotlight for the month of November goes to both Ellen and Lauren Bedore. This mother and daughter exercise duo has been taking the Shannon Center by storm since 2010/2011. The Bedore's truly enjoy the fitness center for its selection of classes, which they often take together.
"The variety of classes and times make it easy to fit a workout into our schedules while also switching up strength training and cardio so we don't get bored," said Lauren. "We like the caring support of the class members and the personal involvement of the excellent instructors."
A typical workout for them includes doing strength training two to three times per week in combination with kickboxing three times a week. When not actively at the gym, this mother daughter duo makes sure to create healthy habits through meal planning and going for casual walks with their dog, Higgins. Approaching their healthy habits together helps to keep them motivated.
"We keep each other motivated by texting before class to make sure the other will be there, but also the accountability from the instructors and other class members," said Lauren. "When we miss a class everyone asks where and what we were doing; laying on the couch isn't a valid excuse!"
When offering motivational tips to others, both Ellen and Lauren suggest making eating right and being active a priority by scheduling your workouts and meal prep time like you would schedule meeting up with friends. Making a point to get a friend or family member to work out with you will help to encourage and motivate you to keep going.
"Remind yourself that this is making your heart and body stronger so you can have more quality years, and that may take a while to develop a routine – don't give up so quickly, you can do it!"
Congratulations, Ellen and Lauren! Check back to see the Shannon Center Member Spotlight for the month of December!
---