Shannon Center Member Spotlight of the Month – December 2016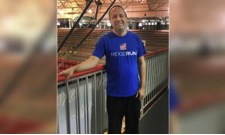 Saint Xavier University's (SXU) Shannon Center has been open to the community for over 17 years! As a way to show appreciation of the community's support, the Shannon Center will highlight one loyal member each month. Members will be chosen by a full-time staff manager or student manager and will be featured on the Shannon Center's website.
The Member Spotlight for the month of December is Dan Earner. As an Evergreen Park resident and 2013 alumnus of SXU's Graham School of Management MBA program, Earner first became a member of the Shannon Center through word of mouth in the community.
"I got involved in the Shannon Center little by little; first starting out through the running program in the spring of 2013 with the goal of completing my first 5K, which I achieved," said Earner. "I wanted to keep improving in my running and built up to training for the Ridge Run 10K, which I have now completed twice! Someone told me about the Bootcamp Class and I was immediately hooked, which ultimately pushed me to become a member of the Shannon Center in 2015."
In addition to the fitness classes and programs, Earner enjoys the versatility of the Shannon Center and the people he has met over the years. A typical workout for him includes a two-mile run on the track or 20 – 30 minutes on the treadmill; stair machine for 10 minutes; 20 minutes with light weights or weight machines. Utilizing the Shannon Center a few times per week in addition to his regularly scheduled fitness classes or programs helps to be a great stress reliever for him, which in turn helps to keep him motivated to live a healthy lifestyle. Earner believes that if you just put your mind towards a goal, you'll surprise yourself with how much you can accomplish.
"You are capable of much more than you think you are," said Earner. "I would never have done a 10K without encouragement from others. Take things one step at a time – start small and keep building little by little, afterall that's how I got my healthy start at the Shannon Center. Before you know it, it will become part of your routine and you will look forward to working out!"
Congratulations, Dan! Check back to see the Shannon Center Member Spotlight for the month of January!
---