Shannon Center Member Spotlight of the Month - September 2016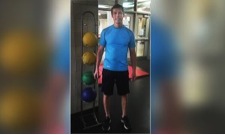 Saint Xavier University's (SXU) Shannon Center has been open to the community for over 17 years! As a way to show appreciation of the community's support, the Shannon Center will highlight one loyal member each month. Members will be chosen by a full-time staff manager or student manager and will be featured on the Shannon Center's website.
The Member Spotlight for the month of September is Martin Gallagher. A Morgan Park resident, Gallagher truly enjoys the Shannon Center for its diverse demographic – mix of students, athletes and residents – which gives a great energy, making it more fun than your typical workout facility. He is a registered investment advisor for his own firm, Gallagher Investments located in Orland Park. Gallagher has many ties to SXU having received his MBA here and served as an adjunct faculty member for nine years. As a huge supporter of the University, his firm has also serves as a longtime sponsor for SXU's Annual Cougar 5K Run/Walk.
A typical workout for him includes a mix of upper body, core, leg and aerobic workouts on different days. Mixing up his routine helps him produce better results and prevents boredom. Gallagher is a fitness enthusiast and tries to find new ways to make a workout engaging and keep him motivated.
"You have to find things that you enjoy, such as a class, running or resistance," said Gallagher. "If you hate a particular exercise you will never stick with it."
Congratulations, Martin! Check back to see the Shannon Center Member Spotlight for the month of October!
---