/
/
/
TV Alert: SXU's Robert Shapiro weighs in on N.Y. and N.J. bombings on WGN-TV
TV Alert: SXU's Robert Shapiro weighs in on N.Y. and N.J. bombings on WGN-TV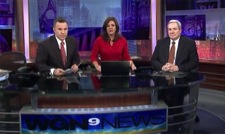 Saint Xavier University (SXU) Political Philosophy Professor Robert Shapiro served as an expert source for two interviews with WGN-TV. On Monday, September 19, Prof. Shapiro conducted a phone interview regarding the recent bombings across New York and New Jersey. During the interview he addressed the correlation between the three bombing sites, and whether or not the bombing suspect acted alone or if it was part of a terrorist related incident.
On Tuesday, September 20, Prof. Shapiro continued his discussion with WGN-TV on the latest bombings during an on-set interview on the 6 a.m. broadcast. During the interview, he examined the process of determining if there were any co-conspirators or foreign government involvement in these situations.
Prof. Shapiro has 34 years of experience as a litigator and trial lawyer for Barack Ferrazzano Kirschbaum & Nagelberg LLP.
---