/
/
/
SXU's School of Education pays-it-forward to Maple Morgan Park Food Pantry
SXU's School of Education pays-it-forward to Maple Morgan Park Food Pantry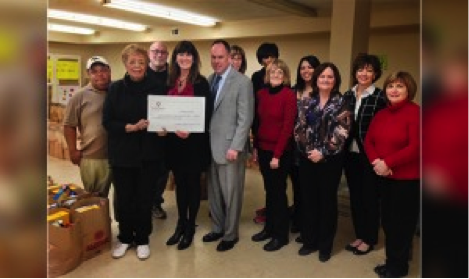 In case you missed it, Saint Xavier University's (SXU) School of Education (SOE) is helped to pay-it-forward over the holidays. Instead of buying holiday gifts among colleagues, this year the SOE donated $725 on Tuesday, December 15 to the local Maple Morgan Park Food Pantry located at 11030 S. Longwood Drive. This food pantry helps feed the needy all year long and sadly, demand is always higher during the holiday season.
In attendance at the donation presentation (pictured in attached photo from left to right): Vincent Owens, pantry volunteer; Lillian Hennings, administrator of the pantry's Board of Directors; Tim McIntyre, pantry volunteer; Dr. Suzanne Lee, dean of SOE; Chicago Ald. Matt O'Shea; Ann Touhy, assistant to the dean; Karen Overstreet, pantry volunteer; Joan Motisi, assistant to program chairs and faculty; Elizabeth Carroll, licensure officer of SOE; Debbie Strubin, assistant to program chairs and faculty; Kathy Peters, parent educator of Birth to 3 Program; and Lori Winkler, assistant parent educator of Birth to 3 Program. Donations were also made by the following not pictured: Jorge Arévalo, project manager for Accreditation, Assessment and Development; David Bell, associate dean of SOE; Jane Lundin, director of School Partnerships; Lydia O'Grady, secretary of School Partnerships; and Maureen Spelman, director of Initial Licensure Programs.
The SOE's charitable work was even featured in the Beverly Review!
For information on donating or volunteering at the Maple Morgan Park Food Pantry, call 773-239-3013. The pantry is open on Tuesdays and Fridays, 1 - 2:30 p.m. To stay up-to-date on programs and opportunities at SXU's School of Education, visit the website.
---