SXU sophomore makes waves with launch of entertainment career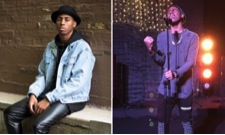 Saint Xavier University's (SXU) Nick Henderson, sophomore communications major, has been making his mark as an entertainer in Chicago and across the nation through his dancing, acting and now the launch of his music career. He was born and raised in Chicago's south suburbs and through his work hopes to aspire young people by providing a positive influence in the entertainment industry.
Henderson's career has been exploding from his signing to Gill Hayes Talent Agency with auditions for television shows such as Empire and most recently, Chicago PD. Last summer, he released his debut single entitled "Forever" on iTunes, Google Play, Amazon and all other major digital stores; performing numerous shows around the Chicagoland area. His debut album, "Black and White" was released in February 2016 to all major digital retailors. Henderson is slated to perform a number of shows including the House of Blues on Tuesday, April 19 to further promote his album. Additionally, he has been featured multiple times in local newspapers and also on WGN's "Around Town" to promote his budding career.
Stay up-to-date on Henderson's upcoming performances and entertainment work by visiting his website or following him on Twitter.
About "Black and White" Album:
"Black and White" was release in February 2016 and combines different elements that include love, pain, faith and God while embodying a sense of relevance amongst Henderson's age group. Stand out tracks include, "Please Don't Leave Me" for its haunting aura that finds Henderson providing some of the album's best vocals, and a stellar production matching the emotion and tension of the vocals. "Fakin' It" is most likely to be a radio-ready song for its catchy melody and R&B influenced beat; making it a favorite throwback vibe to "Won't Love Again" by Michael Jackson – guaranteed to be a fan favorite amongst Generation X! The last track on the album, "More to Life" is the most moving song due to its social relevance, tackling the highly publicized issues of violence and brutality. The album was produced and engineered by up and coming producer King Mxdus, childhood friend of Henderson, who produces multiple genres that include Hip Hop, R&B and Pop. "Black and White" is now available everywhere for stream or purchase.
---