SXU's Student Veteran Alliance participated in NatCon 2016 in Florida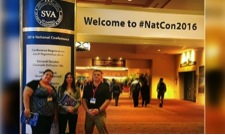 Saint Xavier University's (SXU) Student Veteran Alliance (SVA) had the opportunity to particpate in the 8th Annual National Conference of Student Veterans of America (NatCon) last month at Disney's Coronado Springs Resort at Disney World in Orlando, Fla.
Since 2008, NatCon has been the premier gathering of service members and veterans in higher education from across the country. The conference is the place for attendees to network with peers and learn about cutting edge programs going on around the country that support veterans in higher education.
This year, over 1,500 service men and women attended NatCon 2016, including three members of SXU's SVA chapter – Stephanie Stavrenos, Army; Matthew Dumais, U.S. Marine Corps; and Shalon Torres, U.S. Marine Corps. Along with breakout sessions and keynote speakers, this year's event featured a "SVA Campus," which served as headquarters for SVA staff to interact with attendees throughout the weekend, but most importantly welcomed companies, schools and organizations from all over the country to network with student veterans.
"Seeing so many successful and professional student veterans at the conference reminded me that America's warrior class will continue to produce great leaders for this country," said Dumais.
To attend the conference, SXU's SVA chapter had most of their expenses paid for by a Chapter Grant provided by Student Veterans of America and a hotel voucher provided by Google. During 2015 Student Veterans of America accepted hundreds of applications for Chapter Grants, which are intended to fund different initiatives for chapters looking to expand. In order to apply, SXU's SVA chapter had to provide a business plan, chapter budget, campus culture summary and a 60-second video pitch. As a result of their application, the chapter was invited to participate in the conference's Business Plan Competition and placed in the top six out of all the applicants nationwide!
SXU's SVA chapter had the chance to mingle with other Illinois chapters to share success stories, as well as make plans for the future. Conference sessions included topics on social entrepreneurship and guest speakers including: U.S. Department of Veteran Affairs Secretary Robert McDonald and Medal of Honor recepients Kyle White and Ryan Pitts. The various sessions were to help instill a sense of commonality between the attendees.
"There is no way to describe the feeling of being surrounded by hundreds of other student veterans at NatCon; we celebrate each other's successes and work through challenges together," said Stavrenos. "It is the most motivating experience; you come home with a new mission in mind: to bring others into the fold."
Sponsors for the event include, but are not limited to: Ratheon, Amazon, Google, Eli Lilly, General Dynamics, Northrup Grumman, Wells Fargo, Deloitte and Bank of America.
To view photos from SXU's SVA experience, visit their Facebook page. For more information on the impact of NatCon 2016, read testimonials from attendees, sponsors, partners, exhibitors and speakers on their website.
---