/
/
/
SXU's Student Veterans talked 9/11 with Veteran Memorial Middle School students
SXU's Student Veterans talked 9/11 with Veteran Memorial Middle School students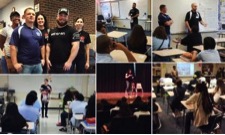 On Friday, September 9, members of Saint Xavier University's (SXU) Student Veteran Alliance (SVA) attended Veteran Memorial Middle School in Blue Island to speak to eighth graders about September 11. Members of SXU's SVA addressed the middle school students who were not born when the terrorist attacks occurred at the Twin Towers in New York City 15 years ago. The veterans shared stories about military life and what it was like to be in the military after the terror attacks on the United States. As a result, the discussions served as an opportunity for students to reflect on and thank our servicemen and women for their sacrifices and contributions.
SVA alumnus Matthew Dumais '15 criminal justice major (Marines) and John Kelly, transfer admissions counselor at SXU (Marines) visited the school along with four other members of the SVA, including: Stephanie Stavrenos, senior English secondary education major (Army); Rachel Williams, senior religious studies major (Navy); Vonkia Petteway, sophomore psychology major (Navy); and Dan McLaughlin, sophomore criminal justice major (Marines).
Each student presented to the class for 50 minutes about personal experiences in the military, as well as answered questions about military life, their duties while in service, and boot camp. Initially, students were shy to ask questions, but after hearing the student veterans talk about Iraq, more questions started to be asked, such as where was their favorite place to be stationed.
"It was impressive to witness the maturity level of these students and their knowledge of these events," said Gricelda Gonzalez, veteran compliance advisor at SXU. "Their curiosity was also sparked by what it was like living overseas. The eighth graders also showed interest throughout each presentation asking great questions and engaging our speakers. It was great to see a teaching moment out of a discussion about discipline and taking orders from superiors in the military; students learned to recognize their self-worth – being the bigger person often means not letting someone take away the respect you have worked so hard to earn."
Matt Hanne, eighth grade teacher and U.S. Army veteran, also shared stories about his military life. Another presentation included photographs of the Twin Towers under attack and the resulting feelings of fear and terror Americans faced that day; however, the cohesion and bond that was formed after was equally important, "United We Stand," a quote students studied earlier that morning.
One eighth grade teacher, Kevin Murray, told the SVA members that discussions like these are a prime example of doing an interdisciplinary approach to teaching because it allows for multiple teachers to cover related material.
Veteran Memorial Middle School enjoyed the visit from the student veterans so much, they have already been asked to collaborate on future opportunities at the school! To stay up-to-date on SXU's SVA, please visit the website.
---