SXU student veterans spent Veterans Day at the White House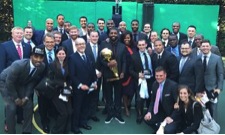 Last month, Saint Xavier University (SXU) student veteran Stephanie Stavrenos and alumnus Matthew Dumais, '16, were personally invited to the White House for Veterans Day. Both were invited through the connections they have made – talk about the power of networking!
Stavrenos was invited through the connections she has made with the national Student Veterans of America (SVA) chapter. She previously served as president of the Student Veteran Alliance at SXU and through this role had the privilege of connecting with the national SVA chapter's Washington DC headquarters on many occasions and even getting to know Jared Lyon, president and CEO of the national SVA chapter. It was through these connections that led to an individual invitation to witness the Cleveland Cavaliers be congratulated by President Obama for being the 2016 champions. The event included a private meet and greet for the President and the team, followed by a congratulatory address, which Stavrenos was present for along with other veterans as a special honor. Once the address concluded, the veterans were taken to another event.
"I was confused and a little disappointed because I wanted to wait and shake President Obama's hand, but I had no idea of the surprise ahead," said Stavrenos.
The group was taken to the White House basketball court and without warning First Lady Michelle Obama walked out onto the court and greeted the veterans and personally introduced them to the Cavaliers. The players thanked the veterans for their service and as an offering of gratitude, invited the veterans to their game on Veterans Day."I was able to have a one-on-one conversation with First Lady Michelle Obama and spoke with LeBron James – well gushed really – about his return to Cleveland, my hometown, as well as his charitable work off the court – it was unreal," said Stavrenos.
As promised, the 20 veterans were treated to a suite at the Cavaliers game on Veterans Day and were once again surprised, this time by Nike, who introduced the Veterans Day edition of the LeBron Soldier 10 shoe, designed specifically for that game and worn by LeBron James. Waiting at the veterans' seats were a pair of the special edition Nike shoes for each of them, complete with the color scheme to honor veterans and LeBron's stats and accomplishments etched microscopically into the sole.
"It was a really special and exciting evening, completed perfectly by the Cavs victory," said Stavrenos. "Two days I will absolutely never forget!"
Stavrenos said "If it weren't for my involvement with SXU's Student Veteran Alliance and making those connections with the national SVA chapter, this experience wouldn't have been possible." The national SVA chapter has told Stavrenos how impressive SXU's Student Veteran Alliance has been in proving its strength and support to the veteran population in higher education. The national chapter has recognized SXU's SVA for making a name for itself on a national level by striving to connect its veterans with a greater community and purpose, providing opportunities for professional growth and networking.
"When I arrived at SXU I knew no one and the Student Veteran Alliance quickly became my family," said Stavrenos. "By participating at the chapter and national level I have found a new purpose, a way to continue my service to others even after my military term has ended. Being in the nation's capital for Veterans Day and having the honor of sitting in the audience to the President and having a one-on-one conversation with the First Lady was surreal – I have never been more proud to have served my country. As far as meeting LeBron James and the Cavaliers – I have never been more proud to be from Cleveland!"
Moreover, Dumais was invited to the White House Veterans Day Breakfast through a White House staff member who had previously served in the Marine Corps with him. The two had lost touch over the years since their service, but it wasn't until they had reconnected at the Student Veterans of America National Conference in January 2016. It was after commemorating over their service together that plans were made for Dumais to attend the Veterans Day Breakfast. As a guest at the event, he was introduced to President Barack Obama, Assistant Commandant of the Marine Corps General Glenn M. Walters, Sergeant Major of the Marine Corps Ronald L. Green, and others. Following the breakfast Dumais traveled with other guests to Arlington National Cemetery for the annual Veterans Day Ceremony.
"It was a once in a lifetime opportunity and I had a great time celebrating Veterans Day this way," said Dumais.
SXU proudly supports its student veteran community! For more information on SXU's veteran program, please visit the website.
---