/
/
/
SXU students launch "Pals for Tara" to aid one student in her fight against cancer
SXU students launch "Pals for Tara" to aid one student in her fight against cancer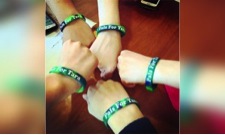 According to the American Cancer Society, 1 in 2 men and 1 in 3 women will be affected by cancer each year. This life-altering disease has taken hold of one of Saint Xavier University's (SXU) very own students, Tara Hill, sophomore Communication Sciences and Disorders major with a minor in Psychology. Since March 2014, Hill has battled Ewing Sarcoma where she has gone through rigorous treatments to help decrease her ever-growing tumor in her chest wall. As a result of countless doctor visits and tests, she recently discovered her liver is not functioning properly, which affects how she can metabolize the toxins out of her body. She is currently undergoing further examinations.
In an effort to decrease the medical costs Hill continues to accrue, last week her fellow classmates rallied together to create a fundraiser entitled "Pals for Tara." The students conducted a bake and bracelet sale over the course of the week and raised over $1,000!
"Pals for Tara" was coordinated through Pals for Change (PFC), a service organization on campus, and collaborated with other campus organizations: Muslim Student Association (MSA), Beta Beta Beta ("Tri-Beta") National Biology Honor Society, Psi Chi National Psychology Honor Society, Mercy Students for Peace and Justice (MSPJ) and Students for Justice in Palestine (SJP).
"Tara has been in Pals for Change for the past two years – she has such a happy spirit and is such a caring and compassionate human being," said Meghan Hill, president of Pals for Change. "When we found out her cancer had returned, we knew we wanted to do something to help. Our hope is to make a significant contribution to Tara's medical costs and assure her that she has a team of loving supporters cheering her on at SXU!"
The fundraiser saw a great turnout and some students even took to social media to show their support and in return, left Hill feeling tremendously grateful as she explained in a post on Facebook:
"Wow, I'm speechless! Thank you to everyone in PFC, MSA, SJP, Psi Chi, Tri Beta, and MSPJ, your support means the world to me. It's not easy juggling everything going on and then trying to keep up my grades in school, but just knowing that I have constant love and support backing me up makes everything so much easier. I'm so lucky to have gotten to know you all at SXU – thank you so much!"
---