SXU students participate in Chicago Network's Future Leaders Program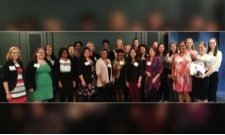 Twelve Saint Xavier University (SXU) students will participate in the Chicago Network's Future Leaders Program on Wednesday, May 11. The Chicago Network is a group of senior women business leaders that has partnered with SXU, DePaul University and University of Illinois-Chicago to expose young women to a variety of careers. SXU students will have the opportunity to visit the Chicago Tribune and meet its Editorial Board.
The students participating in the program include the following: Esraa Aburas; Yesenia Briones-Villalpando; Alicia Dutkiewicz; Julie Gardner; Shanice Howard; Morgan Ignacek; Bria Moncure; Heidi Oberlander; Samantha Pawlak; Bianca Vega; Alicia Velazquez; and Miryam Villarreal.
The Future Leaders Program offers students a chance to visit select companies, receive an overview of the organization and industry, take a tour of the workplace, and discuss the skills, abilities and education necessary for their career path. The goal of the program is to inspire women to become the next generation of leaders.
"I want to express my appreciation to the women from Saint Xavier University who are participating in the Future Leaders Program," said Kate Bensen, president and CEO of the Chicago Network. "This program helps to level the playing field for bright and talented young women, many of whom are first generation college students who may not have had direct access to professionals in our members' industries. Not only do they get a chance to see a workplace in action, they have the rare opportunity to understand what it takes at all levels of an organization to run these businesses successfully day-in and day-out. The goal is for these students to be equipped to more fully envision potential careers – and where they fit in – for themselves."
Sophomore and junior level students were able to apply to the program by submitting a resume, an explanation of career aspirations, and information such as GPA and extracurricular activities. The students who were accepted into the program attended an orientation on Thursday, April 21 in downtown Chicago.
Stay tuned for coverage of the students' visit to the Chicago Tribune in the coming weeks! To learn more about the program and to view profiles of this year's Future Leaders, visit the Chicago Network's website.
---