SXU Alumna selected for 40 Under 40 Emerging Nurse Leaders in Illinois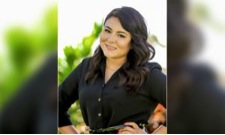 Saint Xavier University (SXU) School of Nursing's (SON) Alumna Gloria Barrera, MSN, RN, PEL-CSN, was recently selected as one of the 40 Under 40 Emerging Nurse Leaders in the state of Illinois. She was nominated and recognized for her outstanding leadership in the nursing profession by her peers. The 2ndAnnual 40 Under 40 Emerging Nurse Leader award is sponsored by the Illinois Nurse Foundation.
"I am humbled to be recognized among 40 of Illinois' finest emerging nurse leaders and honored to represent school nursing," said Barrera.
Barrera currently serves as the Oak Lawn Community High School (OLCHS) head nurse, where she provides exceptional nursing care to students, staff and faculty. Additionally, she serves as a mentor and preceptor for SXU and University of Illinois at Chicago. Barrera pays it forward to future generations of nurses through volunteer work as a One Million Degrees coach with the American Health Association, and serves on the executive board for the Illinois Hispanic Nurses Association-Illinois Chapter (NAHN-IL) and the Illinois Association of School Nurses (IASN). She also is an adjunct faculty member at DePaul University and Chamberlain College of Nursing.
In addition to receiving this award, Barrera was chosen to represent Illinois public health nursing in Washington DC back in June 2016, where she was selected among five other nurses around the country. She spoke to lawmakers about the direct impact climate change, specifically toxic air pollution from the oil and gas industry, has on public health on behalf of the Alliance of Nurses for Healthy Environments (ANHE).
SXU would like to congratulate Barrera on her recent achievements – keep making your alma mater proud!
---