TV Alert: SXU Alumni team "Chicago Cougars" featured on FOX 32 Good Day Chicago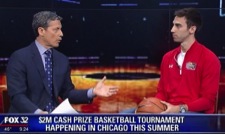 Saint Xavier University (SXU) has comprised a team of alumni to participate in the TBT Basketball Tournament, a nationwide five-on-five elimination, winner-take-all basketball tournament where the winning team will receive a cash prize of $2 million dollars! SXU will host the Midwest Regional games on July 16 and 17 at the Shannon Center located on the Chicago campus, 3700 West 103rd Street. The 64-team tournament is sponsored by ESPN and is open to anyone; teams are eligible to participate through a voting process.
SXU's team is called "Chicago Cougars" and they were featured on FOX 32 Good Day Chicago on Wednesday, April 6 during the 9 a.m. broadcast. FOX 32 anchor Corey McPherrin interviewed SXU alumnus Brad Karp to discuss the competition and how to vote for the team to participate in the tournament.
---