SXU announces 2016 Commencement student speakers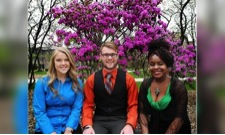 Each year three Saint Xavier University (SXU) students are selected from a pool of candidates to give speeches at SXU's Commencement ceremonies. Reflecting on their time at SXU, each student creates a speech with words of inspiration and encouragement for the graduating class.
The 2016 Commencement speakers include: Peter London, Bachelor of Business Administration with a concentration in accounting, will deliver his speech on Friday, May 6 at 6:30 p.m. to graduates of SXU's Graham School of Management (GSM); Chance's Walker, Bachelor of Arts in English with a minor in psychology, will give her speech on Saturday, May 7 at 10 a.m. to graduates of the College of Arts and Sciences; and Alexa Nakutis, Bachelor of Science in Nursing, will present her speech on Saturday, May 7 at 3 p.m. to the graduates of the School of Nursing (SON) and School of Education (SOE).
The Commencement ceremonies will be held in the Shannon Center at the University's Chicago campus, located at 3700 West 103rd Street.
Peter London, lifelong resident of Bridgeview, Ill., transferred to SXU during his sophomore year and as captain of SXU's men's soccer team, he has showcased his outgoing personality and leadership. He is currently employed as a tax consultant at True Partners Consulting in Chicago. London will be returning to SXU in the fall to pursue a master's degree in accounting. His love of taxes, pretzels and all types of movies showcases his vibrant and eclectic personality. Always on the move and never too shy for a good conversation, he is honored to call SXU home and is truly humbled to be the 2016 Commencement speaker for the GSM. Similar to his coursework serving as the stepping stones for his career, his speech will emulate that same ideal and encourage others to follow their own passions.
"I actually wrote my speech on my way to work riding the train; I just starting thinking about all of the experiences that I have had at SXU and my future as a CPA," said London. "It all just came to me and thinking about my passion for this field really helped to write itself, and in turn, will show others never to shy away from their own determination."
Chance's Walker has been an active member within the SXU community from the very beginning. Through her various leadership roles held on campus, such as being a resident assistant, resident peer minister, orientation leader, transitions peer mentor and director of Spirit and Tradition for Saint Xavier Council (SXC), Walker has considered SXU her second home. Her positive and outgoing personality is contagious and can be seen through her many accomplishments or simply passing her in the halls of Warde Academic Center. Looking into the future, Walker plans to further her education by pursuing a master's degree in special education and psychology. After graduation, she plans to marry a United States sailor and former SXU alumnus in July, after which she will move to Maryland to start her career and family. Walker accredits her success and development to the support of her family, which served as the inspiration for her speech.
"Both my sister and mother have inspired me to follow my dreams – they have been a huge support system," said Walker. "My sister paved the way as an SXU alumna and is my inspiration of strength and determination. Without my mom's support, I would not be where I am today – she's been my rock throughout my entire life and I know I'll make her cry when crossing the stage, but tears of pride and happiness."
Alexa Nakutis is a resident of Woodridge, Ill. and grew up being raised as an only child by her mother and grandparents. When she's not behind a book studying, she enjoys being active through her involvement with various aspects of campus life during her time at SXU, such as being a transitions peer mentor, rebound peer mentor, orientation leader and her current position as the president of the Student Nurses Association (SNA). Additionally, she serves as the nomination and election committee chair for the 2015-16 Student Nurses Association of Illinois (SNAI) Board of Directors. Currently, Nakutis works at Edward Hospital in Naperville, where she is developing her skills and thoroughly enjoys her experiences each and every day. Following graduation and passing the National Council Licensure Examination (NCLEX), she hopes to obtain a full-time position at Edward Hospital as a registered nurse. When it came time to construct her speech, Nakutis considered her instinctive passion for leadership and the connections she's made along the way as the driving force behind obtaining her degree. The connection she has to her family was one that immediately came to mind and all of their support and guidance was the motivational force behind her speech.
"Everything I do is for my family," said Nakutis. "My grandparents would always ask me about a test or homework that I had, even if they did not understand or know about the topic, they have always been there for me. My speech embodies that same motivation and drive for others to find support for their futures, wherever it may take them."
To stream the Commencement ceremonies LIVE, please go online. For more information on SXU's Commencement weekend, visit SXU's website.
---