SXU Art Gallery presents Carlos Barberena's "Promised Land"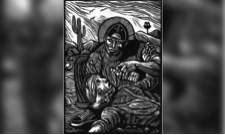 Saint Xavier University's (SXU) Art Gallery will feature the printmaking work of Carlos Barberena and will serve as the last exhibit installment of the fall semester. This exhibition entitled, "Promised Land" will run from Wednesday, November 9 to Monday, December 5 in the SXU Art Gallery on the Chicago campus, 3700 West 103rd Street. A presentation by the artist and reception will be held in the SXU Gallery on Wednesday, November 9 at 3:30 p.m. Public welcome!
Barberena is a Nicaraguan self-taught printmaker based in Chicago and a member of the Outlaw Printmakers. He is a co-founder of the printmaking project La Calaca in Chicago and has exhibited individually in Costa Rica, Estonia, France, Mexico, Nicaragua, and Spain. Barberena has received various awards, most notably the National Printmaking Award in 2013, which was given by the Nicaraguan Institute of Culture; and the award poster for the Ecology and Human Rights in Banana Plantations in Costa Rica, which was given by GEBANA in Berlin.
The following is a statement from the artist which reflects his artwork for this exhibit:
""Promised Land" is a provocative collection of linocuts and woodcuts that confront social and ecological injustices triggered by the rampant voracity and fraudulent schemes of governments and corporations. I draw inspiration from the masters and I employ a re-conceptualization of their familiar imagery, borrowing their compositional strategies and sometimes their titles, but inserting contemporary imagery with sarcasm and satire to communicate the lethal sins committed by these institutions and entities. These pieces take a critical view on different corporations that are using GMO's in their products. They condemn the way policies that favor these corporations are affecting our natural resources, health and labor rights, provoking a catastrophe in our contemporary society. With this series I am trying to challenge the status quo in this "fast food society" making satirical relief prints that emphasize both concept and craft."
SXU's Art Gallery hours are 11 a.m. to 5 p.m. Monday, Wednesday, and Friday noon to 5 p.m. Tuesday and Thursday; and 11 a.m. to 2 p.m. on Saturday.
To learn more about Barberena or his work, please visit his website.
---