SXU's Art Gallery: "Tracing the Inscape" generates media attention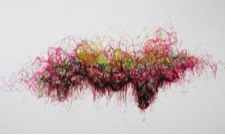 Saint Xavier University's (SXU) Art Gallery will feature the drawings of Tatjana Jovancevic and serve as the first exhibit for the fall 2016 semester. This exhibition entitled, "Tracing the Inscape" will run from Monday, August 22 to Wednesday, September 14 in the SXU Gallery on the Chicago campus, 3700 West 103rd Street. A presentation by the artist and reception will be held in the SXU Gallery on Wednesday, Sept. 14 at 3:30 p.m.
The exhibit will feature works on paper and photographs of site specific work as well. Her art is influenced by the effects of being an individual from a war-torn country, as well as by her inner reflection and examination. She delves into themes of detachment, seeking of a true home, lost sense of identity and the pursuit of belonging and reconciliation.
The following media outlets have featured the exhibit:
Daily Herald (print only)
Mount Greenwood Express (print only)
SXU's Art Gallery hours are 11 a.m. to 5 p.m. Monday, Wednesday and Friday; noon to 5 p.m. Tuesday and Thursday; and 11 a.m. to 2 p.m. on Saturday.
For more information, please visit SXU Website. To learn more about Jovancevic or her work, please visit her website.
---