News Alert: SXU artwork displayed at Little Company of Mary Hospital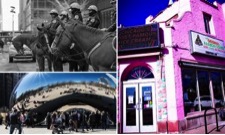 A group of Saint Xavier University's (SXU) students and staff recently participated in a photography project for Little Company of Mary Hospital's newly opened fourth floor wing. SXU's Department of Art and Design Associate Professor Nathan Peck helped lead this project. The exhibit's opening debut was featured in the Thursday, June 2 issue of the Daily Southtown by reporter Donna Vickroy and in the Tuesday, June 7 issue of the Beverly Review by reporter Kyle Garmes.
The collection of 20 pictures hanging in "4 South West" patient rooms and hallways is designed to provide beauty, comfort and familiarity to patients and visitors. The images were taken from 120 submissions, all of them showcasing iconic landscapes or structures from the South Side of Chicago or its surrounding suburbs.
---