SXU becomes hotspot for Pokémon Go players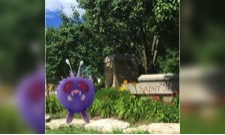 In the last few weeks, Pokémon Go – the new augmented reality app that mixes real-world elements from the GPS of a player's phone, with elements from Nintendo's Pokémon game from the 1990s – has become one of the most popular games in the history of smart phones.
No, this isn't your standard video game smart phone app; Pokémon Go is taking "gaming" to a whole other level and survey says…people are hooked! The game allows for player's to indulge hours on end, while also making sure they "get in all of their steps for the day." Both kids and adults alike are taking to their local surroundings in search of rare Pokémon characters.
This year, Saint Xavier University (SXU) welcomes Pokémon Go enthusiasts to campus to help in their 'Gotta check 'em all" mission. Not only will a walk from Warde Academic Center across the quad to Lake Marion be beautiful, it'll be exciting!
SXU has become home to many PokéStops and gyms and below is a list of places on campus you'll want to check out if you hope to collect new Pokéballs and other free items.
PokéStops:
SXU Corner Stone on 103rd and Central Park
The Little Arboretum
Schmidt Quadrangle
Morris Hall
McCarthy Hall
O'Brien Hall
Sister Raeleen Sweeney Memorial Stone – By Lake Marion
Art Steel Sculpture – by the Arch
Robert and Mary Rita Murphy Stump Library
SXU Marquee Sign on 103rd and Hamlin
GSM – Graham Clock
Gilhooley's Clock
Mercy Bell Memorial
Sisters of Mercy Colleges and Universities
McDonough Chapel
Visual Arts Center
O'Grady Center
Pokémon Gyms:
SON entrance – The Frank J. Shea Memorial
Lake Marion
SXU Arch
Happy and safe hunting!
---