Saint Xavier University Hosts Debate Watching Parties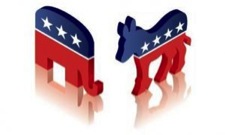 Would you like to watch the upcoming debates on a huge screen, hear from local elected officials and register to vote? If so, please join us at Saint Xavier University's (SXU) Chicago campus, 3700 West 103rd Street, in the Warde Academic Center where you'll hear how national issues affect us on a local level. Prepare to exercise your right to vote by joining us, so you're well-informed on the issues most important to you.
Mark Your Calendars for the following dates:
Monday, September 26 – 7:30 to 9:30 p.m. (Presidential Debate) McGuire Hall
Tuesday, October 4 – 7:30 to 9:30 p.m. (VP Presidential Debate) Fourth Floor Board Room
Wednesday, October 19 – 7:30 to 9:30 p.m. (Presidential Debate) Fourth Floor Board Room
Doors open at 7:15 p.m., so come and hear local elected officials answer questions from 7:30 to 7:45 p.m. Do you need to register to vote? If so, don't worry because SXU students and residents will be able to register to vote at all of the Debate Watching Parties listed above.
SXU's Debate Watching Parties have been featured in the following media outlets:
Here are Voter Registration requirements:
Must be a U.S. citizen;
• Must be at least 18 years of age by Election Day;
Must have been a resident of the precinct at least 30 days prior to Election Day.
Additionally, please bring two forms of identification with at least one showing your current residence. A Social Security Card is also valid.
Here is the link to the State Board of Election's page on how to register to vote in Illinois:
Registering to Vote in Illinois
Lastly, light refreshments will be available at ALL the parties. All SXU students and residents interested in watching the debates on the SXU campus need to R.S.V.P. by emailing newsroomFREESXU. We look forward to seeing you at our 2016 Debate Watching Parties.
---