Saint Xavier University celebrates Hispanic Heritage Month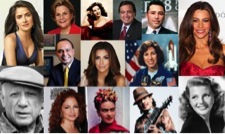 Each year, Americans observe Hispanic Heritage Month from September 15 to October 15, by celebrating the history, culture and contributions of Hispanic and Latino Americans. Hispanics have had a profound and positive influence on our country through their strong commitment to family, faith, hard work, and service. They have enhanced and shaped our national character with centuries-old traditions that reflect the multicultural customs of their community.
The observation of Hispanic Heritage Month started in 1968 as Hispanic Heritage Week under President Lyndon Johnson and was expanded by President Ronald Reagan in 1988 to cover a 30-day period starting on September 15 and ending on October 15. The U.S. Congress passed this observance into law on August 17, 1988, on the approval of Public Law 100 – 402.
September 15 was chosen as the start date in order to coincide with the Independence Day celebrations of five Latin American countries: Costa Rica, El Salvador, Guatemala, Honduras, and Nicaragua. In addition, Mexico and Chile observe their independence on September 16 and 18, respectively.
"From those with roots that trace back generations to those who have just set out in pursuit of the promise of America, they have come to represent the spirit of our Nation: that with hard work, you can build a better life for yourself and a better future for your children," said President Barack Obama. "America has always drawn its strength from the contributions of diverse people. During Hispanic Heritage Month, let us renew our commitment to ensuring ours remains a society where the talents and potential of all its members can be full realized."
This month, join Saint Xavier University (SXU) in honoring the tremendous contributions Hispanics have made to our nation. SXU promotes and recognizes the importance behind celebrating diversity amongst its students, faculty and staff, by establishing it as part of the University's core values. Diversity helps to strengthen SXU's academic programs and educational environment by preparing students to live and work in an international society and global economy. It is a concept that has remained at the heart of SXU's history and will continue to grow alongside the institution for generations to come!
---