SXU's Homecoming Service Project Sets Record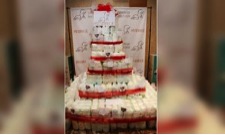 Saint Xavier University's (SXU) partnered with Southwest Diaper Depository for Little Ends (SWADDLE) for its 2016 Homecoming service project to set a record for the largest diaper tower. Throughout the day, local high school and junior high students joined the SXU community to compile a tower made up of 10,820 diaper donations that will assist families in need in Chicago and the southwest suburbs. The previous record for the largest diaper tower included only 5,280 diapers.
One in three American families struggle to provide diapers for their children and SWADDLE helps to bridge the gap for babies of parents living below the poverty level to have a chance to be dry, happy and healthy. At the event, local school students, SXU students, alumni and volunteers created diaper packages that will go to numerous social service agencies, such as: Catholic Charities, Easter Seals, Respond Now, PASS Pregnancy Centers and the COURAGE Program. This service project, founded by numerous SXU alumni, embodied the work of SXU founder Catherine McAuley who believed in providing service to others and ministering to the poor, sick and uneducated.
---