Saint Xavier University to host 2016 Homecoming Week Celebration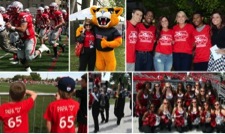 Saint Xavier University (SXU) alumni, faculty, staff and friends gear up for a fun-filled, action-packed week of activities and events taking place from Saturday, October 1 to Saturday, October 8 during SXU's 2016 Homecoming Celebration on its Chicago campus, located at 3700 West 103rd Street.
Join us for an exciting week filled with many events, which embody SXU's spirit including the following:
The All Alumni Reunion will be held on Saturday, October 1 at 6 p.m. at Gilhooley's Grande Saloon or should we say Harrigan's Pub. Enjoy food, music and flashbacks to the 70's, 80's and 90's. Don your hot pants or bell bottoms, leg-warmers and sweatbands, throw your money in your fanny pack and let's "get down" for a fun evening! Admission is $15 in advance; $20 at the door and includes food and beverages (cash bar).
Homecoming Liturgy and Spirit of Saint Xavier Awards, which will be held on Sunday, October 2 at 10 a.m. in SXU's McDonough Chapel of the Mother of Mercy where the following alumnae will be honored: Sister Diane Dalle Molle, M.S.C. '65, '69 (Spirit of Saint Xavier Award); Margaret Mary Hayes '84, '08 (Sister Dorothy Marie Peschon '19 Award); and Brian C. Garland '09, '13 (Rita A. Ford '98 Faith in the Future Award).
The Academic Distinguished Alumni and The O'Brien Student Leadership Awards will be held on Tuesday, October 4 at 6 p.m. in Warde Academic Center's Butler Reception Room. Nearly 100 guests are expected to be in attendance to honor the alumni and students whose words and actions emulate the operating ethos of Saint Xavier University.
Service project with Southwest Diaper Depository for Little Ends (SWADDLE) will take place on Thursday, October 6 starting at 10 a.m. and throughout the day, where local high school and junior high students will join the SXU community to compile a tower made up of thousands of diaper donations that will assist families in need in Chicago and the southwest suburbs. One in three American families struggle to provide diapers for their children. SWADDLE helps to bridge the gap for babies of parents living below the poverty level to have the chance to be dry, healthy and happy. At the event, local school students, SXU students, alumni and volunteers will create diaper packages that will go to numerous social service agencies, such as: Catholic Charities, Easter Seals, Respond Now, PASS Pregnancy Centers and the COURAGE Program. This service project, founded by numerous SXU alumni, embodies the work of SXU founder Catherine McAuley who believed in providing service to others and ministering to the poor, sick and uneducated. All babies deserve to have clean, dry diapers each and every day. If you'd like to donate diapers to SXU's Homecoming service project, SWADDLE, please contact Alumni Relations at alumniFREESXU.
3rd Annual SXU Comedy Night on Friday, October 7 features veteran headliner Tim Walkoe, a musician, author, improvisational actor and comedian who has performed at over 100 comedy clubs nationwide including the Comedy Stop in Las Vegas and Atlantic City, Zanies, and Funny Bones. Walkoe was also the $10,000 grand winner on ABC-TV's "America's Funniest People." He will be joined by local comedian Jim Flannigan whose blend of personal storytelling and smart, sharp punch lines makes him a favorite at colleges, comedy clubs and corporate events. The evening includes a pre-show reception held inside SXU's Center for Instructional Design and Academic Technology (CIDAT) from 7 to 8 p.m. with the performances from 8 to 10 p.m. in McGuire Hall. The event costs $30 (cash bar), which includes admission to the show, appetizers, and other light refreshments and attendees must be 21-years old.
16th Annual Cougar 5K Run/Walk will take place on Saturday, October 8 as over 800 expected students, alumni, faculty and friends of SXU take to the pavement on Saturday, October 8. Immediately following the run, join us for an All School Reunionat Cougar's Corner, the official SXU Homecoming Tailgate. This is a great opportunity to meet the Deans and faculty members and catch up with other alumni from CAS, SOE, SON & GSM. Admission is $10 in advance; $15 at the door (21+) and includes food and beverages (cash bar) Children 12 and under who are accompanied by a paid adult are free. Back by popular demand, Cougar Cubs – an entertainment area for kids that includes a jumping jack, craft projects, and more – will be present.
For more information about upcoming alumni events, please contact Alumni Relations at 773-298-3316 or email at alumniFREESXU.
---