SXU hosting of March for Babies 5K attracts media attention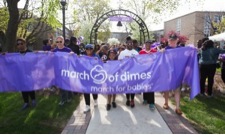 On Sunday, May 1 members of Saint Xavier University and local community supporters came out for the Annual March for Babies Walk on SXU's Chicago campus, 3700 West 103rd Street. This family oriented walk is the nation's first fundraising walk and the second year it was held at SXU.
"The March for Babies event held at Saint Xavier is a wonderful opportunity for our students and employees to become more familiar with the critical work of the March of Dimes," said John Pelrine, vice president for Student Affairs. "Furthering the well-being of children and their families is very compatible with our mission of educating students who will contribute to the common good of society after they graduate."
This event generated a lot of buzz across various media outlets, including the following:
Mount Greenwood Express (print only)
Anyone interested in donating to the cause may still do so until Thursday, June 30. All donations can be made to the event's website.
About March of Dimes
March of Dimes works to improve the health of babies through lifesaving research, community-based programs and advocacy. For more than 75 years, moms and their babies have benefited from the March of Dimes research, education, vaccines and breakthroughs. To find out more about the March of Dimes and how to raise funds and awareness to prevent premature birth and birth defects visit their website.
---