SXU receives $341,366 to support School of Nurse Graduate Students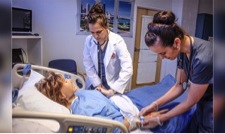 Saint Xavier University's (SXU) School of Nursing (SON) and Office of Government, Corporate and Foundation Relations recently received notice of a federal grant to provide fifteen graduate nursing students with substantial financial support in the 2016-2017 school year.
The Health Resources and Services Administration (HRSA), a division of the U.S. Department of Health & Human Services, has awarded SXU $341,366 from the Advanced Education Nurse Traineeship (AENT) program, which will fund 15 students in SON's Family Nurse Practitioner program who have expressed interest in offering primary care to medically underserved communities.
"The AENT scholarship assists the School of Nursing respond to federally recognized healthcare priorities while providing significant financial support to our students as they pursue important education in family nurse practice," states Gloria Jacobson, Ph.D., R.N., Dean of the School of Nursing.
"Many of the School of Nursing's FNP program graduates completed their clinical practicum hours in facilities located in medically underserved areas and go on to serve in areas lacking adequate healthcare," said Mary Haras, Ph.D., R.N., Associate Dean for Graduate Nursing Programs in the School of Nursing. "We are fortunate to be able to provide quality advanced practice nursing education that benefits not only our students, but the larger community as well."
SXU's School of Nursing has been named in the top three programs in U.S. News & World Report's Best Online Graduate Nursing Degrees list for three years running.
This project is supported by the Health Resources and Services Administration (HRSA) of the U.S. Department of Health and Human Services (HHS) under HRSA-16-071 – Advanced Education Nursing Traineeship (AENT) Program for $341,366. This information or content and conclusions are those of the author and should not be construed as the official position or policy of, nor should any endorsements be inferred by HRSA, HHS or the U.S. Government.
SXU's receipt of this financial award has generated some media buzz in Chicago-area publications. Below is a list of where SXU has been featured:
Evergreen Park Courier (print only)
Mount Greenwood Express (print only)
Daily Herald (print only)
---