/
/
/
SXU pays tribute to its senior softball players heading into NAIA World Series
SXU pays tribute to its senior softball players heading into NAIA World Series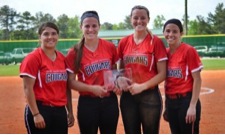 For many athletes, making it to the final championship tournament is the highlight of their season; but for Saint Xavier University's (SXU) senior softball players, it's more about bonding with their teammates that makes their season special. Today marks the start to the National Association of Intercollegiate Athletics (NAIA) World Series tournament and SXU's softball team is ready to take on the competition!
Today, the SXU team will take on No. 7 ranked Simpson University (Calif.) in the third overall game of the six-day, double-elimination event held at the Elizabeth & Irving Jensen Softball Complex on the campus of Morningside College in Sioux City, Iowa. This is SXU's seventh all-time appearance at the NAIA Softball World Series and the first trip since 2013. Out of the 10 teams making up this year's World Series field, SXU is seeded No. 4 in the tournament.
The SXU community is very excited for the softball team and the success they've seen this season! SXU's President Wiseman surprised the team at the tournament banquet on Thursday, May 26 with an inspirational video wishing them luck as they head into the tournament this weekend.
For the team's senior players, this tournament is bittersweet – an end to their softball careers for some, while others just a stepping stone to their next adventure, international softball summer leagues. The four seniors on the team include: Jessica Arebalo, criminal justice major and Palos Heights resident; Bekah Ferguson, business major and Chatham resident; Nicole Nonnemacher, nursing major and Bloomington resident; and Kasey Kanaga, psychology major, biology minor and Metamora resident.
The team's senior players unanimously agree that the best memory they have from their SXU playing career has been the relationships they've made with their teammates and coaches, but also their fans, families and community supporters!
"My favorite part of the game is probably the relationships we've made along the way," said Kanaga. "We had this one man this year come to every game, no one knew who he was at first but he told us he is a longtime supporter of SXU sporting events and lived in the community. It was just really nice to get to know people in the community who came out to cheer us on, just because they, too, love the game."
For both Arebalo and Kanaga their softball careers will come to an end following the NAIA World Series, while Ferguson and Nonnemacher plan to travel overseas in international professional summer leagues. Both Arebalo and Kanaga plan to coach in the future and help pay it forward to future softball players.
"I hope to continue my softball experience through coaching in the future. I would love to coach older kids who will have more knowledge of the game and a true passion for it," said Arebalo. "I'll definitely want to look into coaching traveling softball someday – we will just have to see where my future takes me, but I'm not quite ready to give up on the game."
"Both Nicole and I would agree that we owe a lot of thanks to Erin Mollohan, our assistant coach, for helping us get a contact to play in the international leagues," said Ferguson. "I'll be playing in Austria this summer and Nicole will be playing in Switzerland. I know we both are excited to travel and see what the international teams have to bring to the table and just the overall excitement of this opportunity to play with girls from around the world!"
As the team heads into the World Series this weekend, they face a rush of excitement. While some may be more nervous than others, the seniors have expressed they are ready to take on the competition and enjoy every second of the tournament, whatever the outcome.
"Because Kasey and I went to nationals our freshman year, I'm not as nervous because I kind of know what to expect, but it's exciting to know that we started there as freshman and we get to go back now as seniors," said Nonnemacher. "Our coach just keeps telling us to do the best we can and what happens, will happen; but we are to go out there and take it all in because we deserve it. We would like to win, obviously, but I think we really will just enjoy the time and experience with each other as teammates."
No matter what the World Series has in store for SXU's softball team, the seniors say it's about never forgetting the experiences along the way. Reflecting back on their careers at SXU, the girls agree that the best advice they have for their teammates is to "not sweat the little stuff and never take a day for granted."
To watch the team play LIVE today at 4 p.m., visit the NAIA's website. Join SXU in congratulating the softball team on their terrific efforts and noteworthy season. Good luck, Cougars, make SXU proud!
---