SXU reflects on the legacy of President Christine M. Wiseman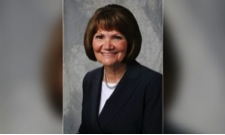 Each new year brings new adventures, and for Saint Xavier University's (SXU) 19th President Christine M. Wiseman, J.D., the journey towards retirement is right around the corner. As another calendar year wraps up, so does the legacy of President Wiseman on SXU's campus; a legacy with endless compassion, kindness and patience toward others.
Over the course of her tenure, she continuously embodied the University's Core Values and communicated a deep understanding of the mission of the University through both its Catholic identity and Mercy heritage. Her student-centered leadership style will always be remembered because of her unwavering dedication to all SXU students; whether it was through participation in student activities, events and games, she always showcased an "open-door" policy.
President Wiseman made a commitment to finding the best in every individual. Her personable demeanor was captivating as students and faculty alike passed her throughout the hallways. In between meetings and events she could always be found discussing a student's latest exam or project, never forgetting to remind them that no challenge was too difficult to achieve.
President Wiseman had a true dedication to the ideals of higher education, which were visible through her commitments of teaching, scholarship and service. She worked tirelessly to place SXU at the forefront of national higher education issues, so that all constituencies could develop a better understanding of the emerging trends in the field and the impact on the University.
"From the time I entered these doors, I knew that I would never leave this institution to call another " home,"" said President Wiseman. "There is something special in what we do here; it's apparent in the eyes of each student who pauses to say hello – or takes my hand at graduation. I am grateful that I have found in the Saint Xavier community the dignity and grace to end a long academic career. I would have had it no other way."
Her steadfast service to the University has been reflected in her work to continue improving the quality of life for the SXU community through numerous ways, including:
Established an authentically student-centered University dedicated to providing an educational experience designed to assist students in preparing for 21st century life careers;
Engaged in substantial efforts to bring the University community toward the reality of playing a more prominent role among Illinois colleges and universities by providing a deeper understanding of national and global trends in higher education;
Appointed by Governor Pat Quinn to the Illinois Board of Higher Education (IBHE), where she served both the state and the University well as the only president of a private university;
Distinguished service as the current chair and prior secretary/treasurer of the Board of the Federation of Independent Illinois Colleges and Universities (FIICU), the oldest, private college association in the nation;
Served as the keynote speaker at the City Club of Chicago in January 2015, where she discussed the University's heritage, diversity and sustainability. This was the first time SXU has ever served as a keynote speaker at the City Club of Chicago;
Named to the "100 Women of Influence" list in Today's Chicago Woman in 2013, which highlights well-known women of importance in various fields throughout Chicago;
Named to Crain's 2010 Annual "Who's Who in Chicago Business" list, which featured her 30 highly successful years in Catholic higher education.
In honor of President Wiseman, SXU's Board of Trustees held a farewell reception for her on Monday, December 5, where it was resolved that upon her retirement she would be awarded the title of president emerita in recognition of, and in deep gratitude for, her tireless dedication and service to the entire University community. Additionally, the Board announced that SXU's Student Lounge will be named after President Wiseman in acknowledgement and appreciation for her commitment to the enhancement of student life at Saint Xavier.
President Wiseman's legacy will be one of fond memories and the SXU community would like to wish her well on the next chapter of her life!
---