/
/
/
News Alert: SXU sophomore runs Chicago Marathon for dad with ALS featured in DNAinfo
News Alert: SXU sophomore runs Chicago Marathon for dad with ALS featured in DNAinfo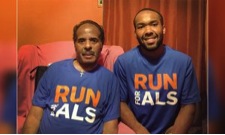 Saint Xavier University (SXU) sophomore biology major Julian Davis was recently featured in the Wednesday, November 2 issue of DNAinfo Chicago for his participation in the Chicago Marathon. The article focused on Davis' hard work to run 70 miles per week to honor his dad, Samuel Davis, who was diagnosed with ALS last year.
Since Davis first learned his father had Lou Gehrig's Disease, he put his efforts into running, specifically running for charity. He ran the Chicago Marathon – his first marathon – in 2:57:33, qualifying him for the Boston Marathon, which he will run in 2018. He also raised $1,300 for the Les Turner Foundation, which is dedicated to fighting ALS.
"Running the marathon was sort of a spontaneous decision once I discovered my father was diagnosed with ALS," said Davis. "I said, "What's the best way to make him proud?" I researched the longevity of individuals with ALS, and I didn't believe I would have enough time with him so I signed up and told myself that the whole year would be dedicated to training for a Sub-3 hour marathon. My ultimate goal after running Chicago is to run every major marathon in the United States. I'd like to keep up the sport for as long as I can, so I can spread more awareness for ALS, and for the benefits of running."
Naturally, Davis' father is incredibly proud of him and even though he is battling ALS, he still remains to have a positive spirit.
"Ever since my son started running, I have been proud of him for his determination, and I'm proud to have him as a son," said Samuel Davis. "I pray every day that my son just continues to be the best person that he can be, and I am totally proud of everything he has accomplished."
Congratulations to Julian on your qualifying marathon and your effort to bring awareness to those fighting ALS!
---