SXU's spring 2016 Concert Schedule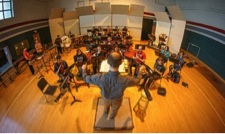 Saint Xavier University's (SXU) Department of Music will host a series of concerts during the spring 2016 semester. All performances are free to SXU students, faculty and staff with a current ID, and for prospective students. General admission is $6, and admission for senior citizens, visiting students and members of the military is $5. All performances will be held at SXU's Chicago campus, 3700 West 103rd Street. For more information, please contact the Department of Music at 773-298-3421 or visit their website.
Honors Recital
7:30 p.m., Friday, April 1, McGuire Hall
Featuring performances from Therese Bueno, piano; Tim He, soprano saxophone; Kathrine Heffron, mezzo-soprano; Morgan Kupec, alto saxophone; Aysa Taylor, soprano; and Mario Torres, tuba. The performers in the SXU Honors Recital represent the highest level of artistic achievement in the Music Department. The students were nominated by their applied studio professors and then competed for an opportunity to be a part of this special performance. The repertoire to be performed is quite varied, and is sure to be a splendid evening for the audience to enjoy.
Faculty Recital
7:30 p.m., Saturday, April 2, McGuire Hall
This performance will include SXU's Department of Music faculty, specifically featuring Irene Claude, flutist and Emily Mantell, cellist, with Christian Clough, pianist. Program includes Sarah Wald's "Divertimento" for flute and cello, Cecile Chaminade's "Concertino", Charles Koechlin's "Fourteen Pieces" for flute and piano, and Eric Ewazen's "Sonata No. 1" for flute and piano.
Opera Workshop and Chorale
3 p.m., Sunday, April 10, Music Performance Space
The Opera Workshop and Chorale present the music of Gilbert and Sullivan, including highlights from "The Mikado," "Pirates of Penzance," "Patience" and more. The Opera Workshop is a course of six students who focus on singing music for the stage and in this case, working on arias and scenes from Gilbert and Sullivan operettas. The University Chorale, a 45-voice ensemble comprised of SXU students, alumni, faculty and community members, joins the Opera Workshop soloists for this performance, singing famous choruses from the Gilbert and Sullivan canon.
Flute Choir
7:30 p.m., Friday, April 15, McDonough Chapel
The program will include a premiere of a piece written by Sarah Wald and commissioned by SXU's Irene Claude, director. Sarah Wald was a former flute student of Irene Claude's private flute studio. Other pieces on the program include "Allegro from the Flute Quartet in D Major" by W.A. Mozart, "La Milonga" by Christopher Caliendo, "Three Korean Folk Songs" arranged by Kelly Via, and "Beyond the Night Sky" by Peter Senchuk.
Chamber Singers
3 p.m., Sunday, April 17, Mercy Chapel, 3659 W. 99th Street, Chicago
This concert consists of music celebrating Easter and the renewal of spring, including the Bach Easter Cantata "Christ lag in Todes Banden," Buxtehude "Magnificat," Hassler "Cantate Domino," Stanford "The Blue Bird," Elgar "As Torrents in Summer" and Brahms "Dem dunkeln Schoss." The Chamber Singers are an auditioned ensemble, where any member of the Chorale is eligible to audition. Singers are selected based on their vocal technique and ability, as well as musicianship and interest in learning more about small ensemble singing.
Clarinet Quartet & Guitar Ensemble
7:30 p.m., Sunday, April 17, McGuire Hall
The concert will feature a wide variety of music from J.S. Bach to Toto.
Orchestra
7:30 p.m., Thursday, April 21, Music Performance Space
The students of the SXU's Symphony Orchestra will perform a variety of classical and romantic orchestral works including Felix Mendelssohn's "March from Athalia," Béla Bartók's "Peasant Suite," Franz Joseph Haydn's "London Symphony," and selections from Igor Stravinsky's monumental work, "The Firebird!"
Wind Ensemble
7:30 p.m., Saturday, April 23, Music Performance Space
The students of the SXU's Wind Ensemble will take their audience on a journey through complete chaos! Scott McCallister's assertive piece "Popcopy: More Cowbell!" will start off the concert. Then, the Wind Ensemble will digress from chaos a bit to provide some serenity before the madness continues, which they'll achieve by performing Davis Maslanka's beautiful work "Heart Songs," which was composed from an image of the tree of life being watered by the blood of the heart. Following that reprieve, SXU's Percussion Ensemble will fire things back up with their performance of David Skidmore's Ritual Music. Then, Dr. Shawn Salmon, music department faculty member, will appear as a guest artist and will perform on electric guitar in Jim Bonney's very curious piece, "Chaos Theory 3.0." Finally, the Wind Ensemble will embark on an epic journey through the city of Las Vegas, while Godzilla runs amok, destroying everything he sees! The piece, "Eric Whitacre's Godzilla Eats Las Vegas," will feature an additional music department faculty member, Prof. Patricia Lee, who will perform on piano.
Jazz Night II
7:30 p.m., Friday, April 29, McGuire Hall
The concert will welcome guest band, The Kelly High School Jazz Ensemble, featuring a special tribute to SXU's graduating seniors. The theme for this performance is "Jazz Night with the SXU Jazz Combo and SXU Jazz Ensemble."
Flute Studio Showcase
7:30 p.m., Saturday, April 30, McDonough Chapel
Featuring students from the studio of flute instructor Irene Claude, with Daniel Surma, pianist.
---