/
/
/
SXU student implements 'Windows of Love' to bring love, peace and unity to campus
SXU student implements 'Windows of Love' to bring love, peace and unity to campus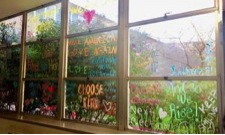 After a long Presidential Election season this fall, one Saint Xavier University (SXU) student, Therese Bueno, recognized a shift on campus; what used to be a very supportive and unified campus had changed overnight. In an effort to combat this "great divide" feeling, Bueno approached SXU's Student Life for assistance in implementing "Windows of Love" in Warde Academic Center's L-Wing corridor.
"So many people were unsure of the future and what it meant for them," said Bueno. "Students were walking with their heads down, arguments could be heard in the Diner, and a lot of people were upset [following the election], but most of all, the campus felt divided. The windows were an impulsive response to this divide. I wanted the campus to remember that we are a diverse community that stands together, and that love prevails over any divide."
The goal of Bueno's "Windows of Love" project was to spread messages of love, solidarity, optimism and community to SXU.
"The greatest thing about SXU, is its small, tightly-knit community," said Bueno. "Everyone knows each other, supports each other and is there for one another. It is something that I myself have never experienced anywhere else and I didn't want people to forget that."
Bueno knew that many would have various reactions to her project, but that was one of the main reasons she acted on it, and found a way to have members of the SXU community express their thoughts.
"No matter what your political affiliations, no matter what the color of your skin, no matter what your religious beliefs, and no matter who you are, we are in this together; we are family and we are one SXU."
Bueno worked closely with Samantha Maher Sheahan, associate dean of students and director of class programs, to implement this project and together the two were highly impressed with how quick the SXU community took to the idea of writing positive messages on a windows.
"Students started participating immediately and within 48 hours the L-Wing windows were full," said Maher Sheahan. "I was so proud of Therese for wanting to remind students what a great community we have here at SXU, and for the students who stopped to write positive messages, to talk to one another, and to embody what it means to be one SXU. I have the privilege of working with SXU students each and every day, and I am always very proud of that. I am so glad I was there to witness the respect and compassion that filled the halls this November!"
Bueno hopes that the ethos of this project continues long after the windows are washed away.
"I think that the windows have shown that our community, although it is small, can make a difference," said Bueno. "SXU has so much heart, love and support to give; I think we need to continue to spread that each and every day. We need to keep it going, that way, even if the future seems uncertain, we still have each other to see it through!"
---