Saint Xavier University participates in Walk a Mile in Her Shoes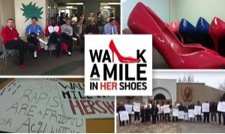 Did you know that 1 in 5 women will be sexually assaulted at some point in their lives? That said, on Wednesday, March 30, don't be surprised if you see a group of men rocking a set of high-heels and strutting their stuff as they walk alongside Saint Xavier University's (SXU) Chicago campus, 3700 West 103rd Street for the 2nd Annual Walk a Mile in Her Shoes® event. Male administrators, faculty and staff will be walking one mile of the campus from 11 a.m. to 1 p.m. to get the community talking about topics including gender relations and sexual violence against women. This student-coordinated walk is expected to generate attention from students, faculty, staff and local community members alike.
April is Sexual Assault Awareness month across the country. As a way to kick-off this awareness month, SXU and in countless other cities, men are getting pumped up – literally — in order to raise awareness about this pressing issue within society.
The day of the Walk a Mile in Her Shoes® event will include awareness for the violence towards women, numerous spectators, and the much anticipated viewing of men walking in high-heels. The event is free and open to the public, and it is encouraged that anyone with free time that day be in the SXU's Diner Atrium to view such a feat.
Last year's event proved tough for some, but as the participants neared the end of the mile-stretch, a group of women and other supporters lined up in rows to clap and congratulate them. The men immediately took off their heels to change into some more comfortable shoes; however it truly brought to light you can't really understand another person's experience until you've walked a mile in their shoes.
For more information or to sign-up to participate, please contact Samantha Maher-Sheahan, associate dean of students at 773-298-3122 or mahersheahanFREESXU.
About Walk a Mile in Her Shoes®
The mission of Walk a Mile in Her Shoes® is to create a unique and powerful public experience that educates individuals and communities about the causes of men's sexualized violence against women, and provides them with prevention and remediation strategies. The march empowers men, and all participants, to further develop and implement these strategies both interpersonally and politically.
---