SXU's Student Newspaper "The Xavierite" moves online only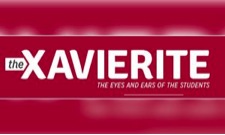 After 80 years of being in print, Saint Xavier University's (SXU) student newspaper "The Xavierite" will be moved onto a digital platform only. This change was announced during the 2015 spring semester.
"The students are very excited about the new format change," said Peter Kreten, director of Student Media. "I believe this change will help better prepare them in meeting new professional standards, and see how the industry is evolving. The goal of Student Media is always to allow students the ability to practice what they learn in the classroom in a professional setting. This new and exciting change will allow them to meet the challenges of 21st century media."
This change brings about a new realm of challenges and expectations for students to keep up-to-date on the evolution of journalism. At the helm of The Xavierite's staff is new editor-in-chief, Zhana Johnson, senior communications major and four-year veteran at the publication. This year, 12 students will work diligently to serve their online community readers, publishing stories three days a week on Monday, Wednesday and Friday.
To read the stories published by The Xavierite, please visit its website.
---