SXU and WGN-TV's Teacher of the Month for March 2016: Ilhan Avcioglu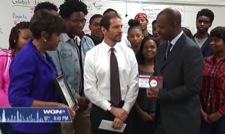 Saint Xavier University (SXU) has partnered with WGN-TV Chicago to highlight the Teacher of the Month program, which honors educators who make a difference in their communities. The program recognizes outstanding kindergarten, elementary, junior high, high school, vocational, and special education teachers in Chicagoland and northwest Indiana.
Ilhan Avcioglu teaches civics at Kenwood Academy on Chicago's South Side. Avcioglu is also the March Teacher of the Month. Teachers of the Month also will appear on the SXU and WGN-TV websites.
Teachers of the Month are chosen based on educational achievements in the classroom, community contributions and innovativeness of the program/techniques used by the teacher. Each Teacher of the Month is featured on the WGN-TV news and will receive a certificate of recognition. Additionally, each Teacher of the Month will receive a $1,000 donation from SXU to purchase school supplies for his or her classroom
---