Two SXU students travel to White House to celebrate College Radio Day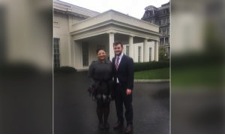 Last week, the College Radio Foundation brought college radio students from 10 universities across the nation to attend a special College Radio Day visit at the White House. For all the students in the group, this was an once-in-a-lifetime opportunity to visit the historic building and to meet and interview high-ranking government officials. The group of students and advisors were credentialed members of the White House press corps for the day and were provided access to the James S. Brady Press Briefing Room.
Among the group of students were two Saint Xavier University (SXU) students, Sean Anderson and Mia Guevara Moran. During the visit, the group met with members of the Obama administration to discuss important issues relevant to current college students. Topics included college affordability, student loans and climate change. The group also met with press secretary Josh Earnest to discuss his role in the media and the importance of college media in today's society.
College Radio Day is an annual event sponsored by the College Radio Foundation to unite college radio stations around the country, while celebrating its important contributions to music, journalism and the radio industry as a whole. This annual event was co-founded by SXU's very own Peter Kreten, director of Student Media, back in December 2010.
Join SXU in celebrating this upcoming College Radio Day on Friday, November 4 by listening to WXAV 88.3 FM or stream it live online.
---