News & TV Alert: SXU's Walk a Mile in Her Shoes® event saw attention from media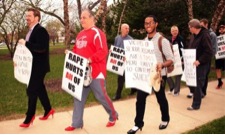 Male students, administrators, faculty and staff from Saint Xavier University (SXU) rocked a set of high-heels while strutting their stuff along SXU's Chicago campus, 3700 West 103rd Street for the 2nd Annual Walk a Mile in Her Shoes® event last week on Wednesday, March 30 to raise awareness for violence against women. April is Sexual Assault Awareness month across the country and as a way to kick-off this awareness month, men at SXU got pumped up – literally – in order to get the community talking about topics including gender relations, and sexual violence against women. Participants immediately took off their heels to change into some more comfortable shoes; however, it truly brought to light you can't really understand another person's experience until you've walked a mile in their shoes.
This event, visual in nature, received a lot of media attention, because who wouldn't want to see men walking in heels for a great cause?
WBBM Radio – aired during the following broadcasts: 1, 2, 3, 4, 7, 9, 10 p.m.
ABC 7 Chicago – also aired during the 5 and 6 p.m. broadcasts, as well as, on their website
DNAinfo Chicago
Chicago Tribune
Associated Press printed this story in their Tuesday, March 29 issue
---