Women's History Month: Honoring SXU's Female Veterans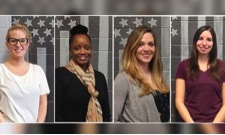 As we honor Women's History Month, Saint Xavier University (SXU) would like to thank the women who have served in the military. Throughout history, women veterans have taken on a variety of roles and ranks. They have served their country with the same commitment, honor and leadership as men; however, few female soldiers receive the recognition they deserve. When did our female veterans stop fulfilling domestic roles and race onto the battlefields? What motivated them to fight for respect as they moved up the ranks? The answers to these questions bring to life an untold history of courage, fortitude and a passion to pave the way for generations of women to come.
The history of women in the military dates back to 1775, where they served as nurses, aids, cooks and other necessary domestic roles. It wasn't until 1976 when women were actually admitted into the military academy. Looking back at American History, there were some women who actually fought in the Civil War; they disguised themselves as male soldiers in order to be able to fight. However, it wasn't until our two most recent wars, in Iraq and Afghanistan, where women actually served in combat.
SXU honors four women who not only served their country, but also decided to further their education too – Seandra Harrell, Jennifer Kohany, Stephanie Stavrenos and Maggie Acosta.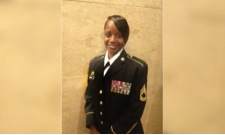 Seandra Harrell, senior communications major, served for 28 years in the Army as an active guard reserve (AGR) E-7 who recently retired. After high school, she enlisted in hopes of finding the right path for her life. Her experiences as a female in the military motivated her to be the best she could be every single day; having a desire to 'hold your own' kept her from giving up when challenged during drills, exercises and combat.
"It's an overall sense of community you get through the military and making sure other women feel welcomed within that community," said Harrell." I'm definitely proud of my service because it was the best decision of my life that helped me develop the discipline and direction I have today.
Harrell's overall discipline and focus from her service prepared her for the difficulties of college. Harrell hopes to work in logistics or human resources upon graduation and still remain in close proximity to veterans.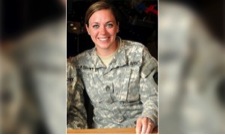 Jennifer Kohany, senior nursing major, is currently serving her 11th year in the Army in the National Guard as a staff sergeant E-6. She joined in her junior year of college – prior to SXU – because it was post 9/11 and she felt a strong urge to give back. Kohany, like Harrell, also appreciated the relationships she created throughout the course of her military career. It was those relationships she made that were worth every second of struggle she faced.
"Women are clearly outnumbered, the percentages don't lie," said Kohany. "Every job you have in the Army is important because it contributes to the larger scale and there are definitely some inequities between the sexes, but I think most women try to work harder just to be seen as equal in their respective fields – we're driven to work three times as hard to be better at the task than any one man can doubt. As a veteran, we don't know the phrase "I can't" – you just do. It's not in our nature to quit and we will work towards our goal no matter what the struggle."
Kohany tributes her goal-oriented training and experience from the service as her motivation to return to school and seek out a higher education degree. She will graduate in May 2016 and hopes to finish her 20 years of service, staying in the Reserves and ultimately becoming an Army nurse. Kohany serves as a role model for other women – veterans and civilians – empowering them to be the best they can be and not give into the struggles they face, no matter the circumstance.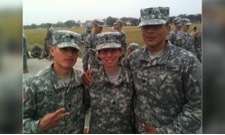 Stephanie Stavrenos, junior English for secondary education major, served just under two years as an Army specialist E-4 and recently retired. Similar to Kohany, Stavrenos enlisted in a post 9/11 world because she felt it was something she needed to do for her country. She considers the decision to still be the greatest thing she's ever done for herself – physically and personally. Stavrenos recalled a fellow male soldier questioning her ability during a drill only to have the immediate support and boasting of her drill sergeant who believed in her.
"I didn't even visit the campus, prior to applying to SXU and I lived out of state," said Stavrenos. "I always had a yearning and hunger to learn more and after coordinating with SXU's veteran representatives, I just knew this was the place for me. I was excited to be part of the SXU family."
She hopes her experiences in the military inform her future plans as a teacher. She hopes to get certified to work with other student veteran chapters or even the national chapter to help veterans know what resources are available to them. As a female veteran, Stavrenos hopes to continue making an impact on those she meets by sharing her story because she understands that each of us contributes to history.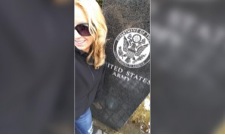 Maggie Acosta, junior nursing major, served for ten years in the Army as a staff sergeant E-6. Following in her brother's footsteps, she enlisted despite the joking comments on how she was a ballet dancer and book nerd from other family members. Acosta made it her mission to hold herself to the same standards as her fellow male counterparts because she knew she was a part of something important.
Acosta has a passion for trauma medicine and knew SXU's nursing program challenged its students and in the end produced very competent nurses; she also wanted to attend a program that made her proud of her degree. Although uncertain of her plans after college, she hopes to either go back into the service as a Navy nurse or work in a civilian hospital.
"As a female veteran in higher education, I provide proof that no matter what your gender or age is, you can achieve anything with a little bit of motivation and heart," said Acosta. "I am a wife, a mother, a veteran and a college student balancing many roles. The opportunities we have as women in America today are afforded to us because of the women that came before us. While some things still may be unequal between genders, they will remain that way unless women continue to fight and push the limits."
As we honor the many patriots who have shaped not only the destinies of other women, but also the direction of history, let us continue to share the untold stories – one's where a woman's potential is limited only by the size of her dreams and the power of her imagination.
Hear from these women and others at a panel discussion on Thursday, March 31 at 3 p.m. in Warde Academic Center Room L309. This event entitled "In Defense of Others: Women in the Military," will include SXU students and faculty members sharing their experiences in the military service, but also the importance of women who serve in the armed forces.
To learn more on SXU's female veterans, please visit SXU Newsroom's Facebook and Twitter sites.
Kelly Murphy
Media Relations Specialist
---