/
/
/
Saint Xavier University's Esraa Aburass named Lincoln Academy Student Laureate
Saint Xavier University's Esraa Aburass named Lincoln Academy Student Laureate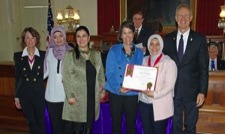 Each fall, an outstanding senior from each of the four-year degree-granting institutions of higher learning in Illinois is awarded the Abraham Lincoln Civic Engagement Award and thereby becomes a Student Laureate of the Lincoln Academy of Illinois. This year, Esraa Aburass was selected as Saint Xavier University's (SXU) Student Laureate for 2017.
In the spirit of Lincoln, Student Laureates are honored for their leadership and service in the pursuit of the betterment of humanity and for overall excellence in curricular and extracurricular activities. The 43rd Annual Student Laureate Award Ceremony was held on Saturday, November 11 in the Hall of Representatives at the Old State Capitol in Springfield. Governor Bruce Rauner, president of the Academy, and First Lady Diana Rauner presented the awards. Each Student Laurate was presented the following in recognition of outstanding achievement: The Lincoln Academy Student Laureate Medallion; a certificate of achievement; and the Abraham Lincoln Civic Engagement Award in the amount of $1,000.
"In reflecting upon receiving the 2017 Student Laureate recognition, I am honored and thankful for those who believed in and valued my leadership and service in the pursuit of the betterment of humanity," said Aburass.
Aburass, a Bridgeview resident, is a senior finance major with minors in Middle Eastern studies and sociology. She maintains a 3.495 GPA overall. She is an accomplished member of the Student Success Program (SSP), where she also serves as a peer mentor. As a mentor, Aburass was formerly part of the cultural subcommittee and designed and led programs such as the Hijab Challenge and Cultural Conversations for the students of SSP. Currently, she is part of the financial subcommittee and has taken the lead to organize a FAFSA completion workshop and to help students gain tips about how to be more financially savvy.
She is a founder and current president of the Financial Management Association at the Graham School of Management (GSM), where she writes articles about financial topics and coordinates communication between current students and alumni. She is also the vice president of the undergraduate advisory board at the GSM. Aburass was selected to participate in the Chicago Future Leaders Program sponsored by The Chicago Network, a competitive opportunity for young women to participate in informal mentoring and visits to see leadership in action at Chicago businesses and nonprofits.
One of the most compelling aspects of Aburass' story is that she grew up as a refugee when her parents fled the war in Palestine. When she arrived in the United States after spending some time in Jordan, Aburass knew that she wanted to give back to the community. She interned at an organization called CAIR-Chicago where she provided outreach to different communities to inform them of their rights.
As Aburass' nominator wrote anonymously, "I believe she should be selected as the 2017 Student Laureate because she is one of the hardest working students I have ever met. She excels academically while also demonstrating genuine compassion and concern for those in need, and is an advocate of justice for all."
For more information on the Lincoln Academy Student Laureate Award, visit SXU's website.
---